Small Business of the Year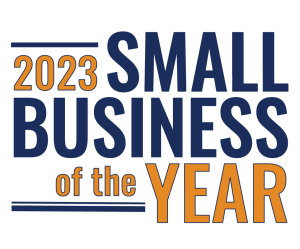 2023 Small Business of the Year and Grow St. Charles Awards Luncheon
2014     Cliff Heitmann, Bax Engineering, Co., Inc.
2013     Bryan Jefferson, The SOHO Shop
2012     Sherry Gibson, Gibson Printing, Inc.
2011     Merle Schneider, SCHNEIDER Real Estate
2010     Wendy Black, Main Street Gym
2009     Joe Crenshaw, New Frontier Bank
2008     Dale Poslosky & Mitch Stern, Modern Business Interiors
2007     Tom Wapelhorst, Walters Jewelry, Inc.
2006     Susan Berthold, Remington's
2005     Phil White, Telcom Services Installation (TSI, Inc.)
2004     Richard Sacks, The Sacks Group, Inc.
2003     Curt Dreyer, Bi-State Fire Protection Corporation
2002     Ed Pundmann, Pundmann Ford
2001     Hyatt Bangert, MB Properties, Inc. and Millstone Bangert, Inc.
2000     Tom & Holly Gillette, Parkview Gardens Florist & Greenhouses
1999     Eric Stegemann, Stegton Regency Banquet & Conference Center
1998     Tom Hughes, T. R. Hughes, Inc.
​1997     James Rau, The Centennial Bank
​​1996     Bob Kirkwood, Lewis & Clark Restaurant and Trailhead Brewing Co.
1995     Jerry Kelly, Jerry Kelly Heating & Air Conditioning
1994     Jim Henry, R.C. Wilson
1993     Ernie W. Dempsey, Pio's Restaurant
1992     Maurice Thro, Thro's Clothing
1991     Elsie Long & Doris Altmansberger, A & L Travel
1990     Roy Kohrs, Mid-Towne IGA
1989     Joe Daues, ISU/St. Charles Insurance Agency
1988     Ann Watkins-Hazelwood, Patches, Etc.
1987     Harold Bax, Bax Engineering Co., Inc.
1986     Quince Parker, St. Charles Metal Finishing
1985     David Baue, Baue Funeral Homes
1984     Dean Wilcoxen, Wilcoxen Office Supply
1983     Melba O'Connell Brickner, Cave Springs Travel Co.
​​1982     Walter Rogalski, Tool Craft Machine & Tool Co.